It was our honour to be awarded a Special Recognition by EASA for our app "Wings Toolbox".
I'd like to congratulate the three main winners of the contest.
1st Prize: Open Glider Network – http://wiki.glidernet.org/
2nd Prize: EasyVFR 4 – https://easyvfr4.aero/
3rd Prize: Flytool – https://www.flytool.nl/nl/uk/
All great apps and great initiatives. Congratulations for your work and thank you for your contribution.
We are of course very happy that our ideas and efforts have caught the attention of EASA, and hope they can help us spread the word so that more people can benefit from our software. You can find the press release from EASA here.
Our entry – Wings Toolbox
Wings Toolbox was designed with a very narrow focus of raising situational awareness, and awareness of your own personal minimums. It does this by showing you what the situation is on the ground at nearby airfields, not just VMC/IMC but also measuring the conditions against preset criteria defined by you as part of your personal set of minimums. We call this feature your "Personal Barometer".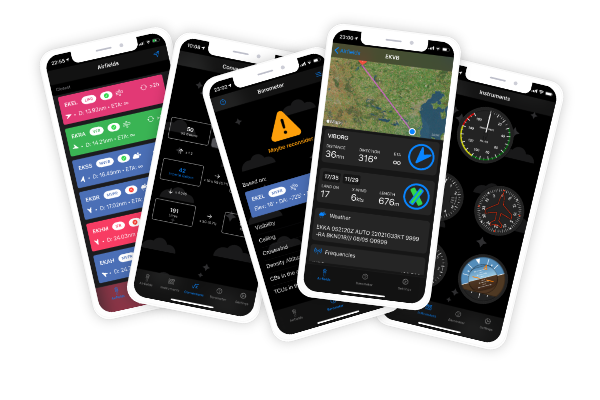 This is of course great when deciding if you should fly at all, but the app doesn't stop there. The main screen lists all of the eligible airfields closest to your current position as well as a direction, distance and ETA, all updated on the main list in real time. Once you have selected a landing field, you can then drill down to get more details about the field including a suggestion of a runway based on your presets and the wind direction.
In addition to these crucial features, the app also has some smaller but super handy features that could in some situations prove to be of crucial importance. Features such as a backup set of instruments and weight and volume conversions.
We also deliver EASA news and Sunny Swift episodes directly to your pocket if you should choose to opt-in for such notifications.
You can learn more about Wings Toolbox on our website or download it directly from the Apple Appstore.
Stay tuned!
This is just the beginning. We hope to improve and expand on this app as well as the other apps we are working on, so watch this space! And thank you EASA for showing an interest in our work and sharing our passion for technology in aviation and aviation safety.